You might not realize it, but an image denoiser is one of the most essential photo editing and noise reduction tools. It is used for image noise reduction and to remove any unwanted graininess. An image with too much noise is not pleasing to a customer's eye or for your potential clients and audience. Unlike an image upscaler that make small photos larger while retaining their quality, image denoisers focus on reducing noise and artifacts in images to make them look better.
What is image noise reduction?
First of all, it's crucial to understand the meaning of denoising or noise reduction. When a photo is shot in less-than-optimum light conditions, the pixels in the photo become visible, leading to a "noisy" image compared to a smooth one. When you employ Denoise AI tools, the quality of an image is restored and enhanced by getting rid of the grainy texture in the photo.
Best 5 AI Denoiser Online Tools Review
VanceAI brings its AI denoiser online. If you are interested in image noise reduction, the Vance AI Image Denoiser can transform and denoise image by eliminating graininess in your image up to 100 percent, without any hassle.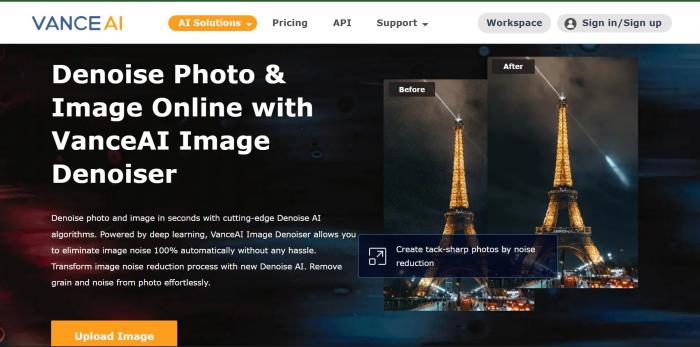 The process is totally automatic and is also fully online, so you don't have to download anything on your computer to get the best version of your image. With this AI denoiser, you are seconds away from creating stunning and high-quality photos that look like they have been clicked with a high ISO and shutter speed.
Pros:
Uses deep learning and cutting-edge algorithms to reduce noise and make your pictures crystal clear
The image noise reduction takes barely a few seconds, and just one-click
More AI image enhancer features than just noise reduction
Cons:
The maximum size is 2.8 megapixels
Sometimes the size of an image is directly proportional to the noise in the picture. If the camera quality is bad, the output will be a medium-sized file with a lot of noise.
This ai denoiser online can get rid of all the noise in your image and improve the quality of your picture twofold. Simply drop the image into the box on the Imglarger website or click the button. The image will be denoised and processed automatically.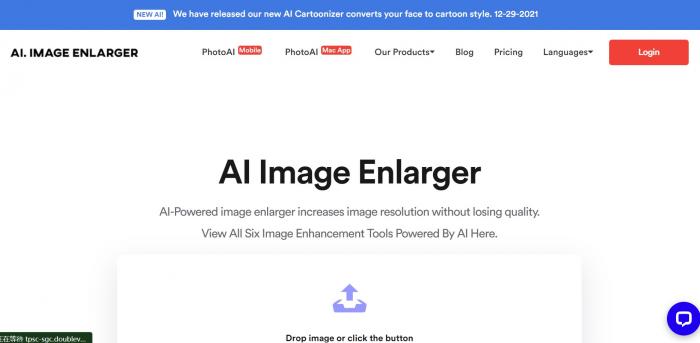 Pros:
Max size is 5 MB or 2000x2000 pixels
Its SRCNN neural network has been trained with multiple high-quality images to recognize and transform low-resolution pictures
Uploaded items are cleared within 24 hours
Cons:
Only supports jpg and png files
This image denoiser is a champ in image noise reduction. Its advanced neural network can differentiate between areas with noise and without. which parts of an image correspond to signal and which parts correspond to noise.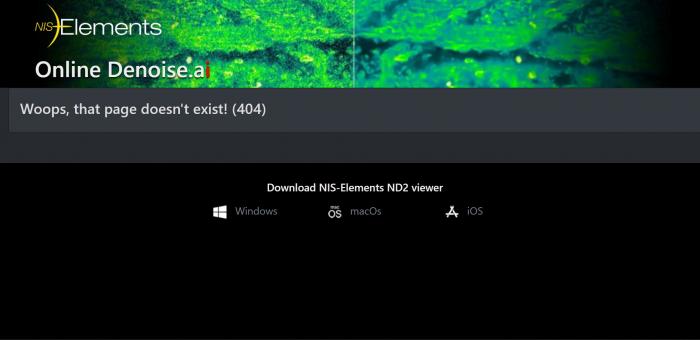 With Denoise.ai, you can denoise photo online and obtain an excellent quality image in unbelievably fast speeds.
Pros:
Uses a NIS-Elements Online Denoise.ai algorithm which is an ai denoiser online
Has a 50 MB file limit
Cons:
Supports ND2 or TIFF files only
If you want to enlarge your image, you risk the photo becoming blurred or fuzzy and filled with noise. The Bigjpg AI image denoiser utilizes an algorithm specially built to optimize the image's lines, colors, and texture.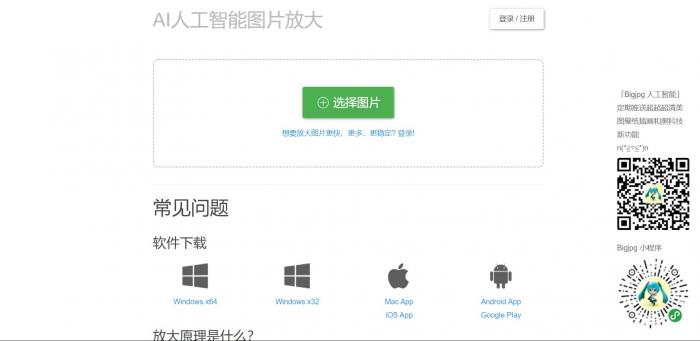 So, even after the image enlargement, the colors retain their saturation and do not break apart into pixels. Doubling and blurring are also minimized. The result post ai noise reduction is a high-resolution and quality one that you can upload freely on your website.
Pros:
Free users can upload an image with a 3000x3000 pixel limit
Most of the time, the processing time is shorter than the time estimated after uploading
Cons:
The image denoiser and the enlarging process works better after registration
Denoise It is an AI image denoiser like those mentioned above, but the difference is that it is an app that can be downloaded onto your phone. This way the product's neural network is right at your fingertips!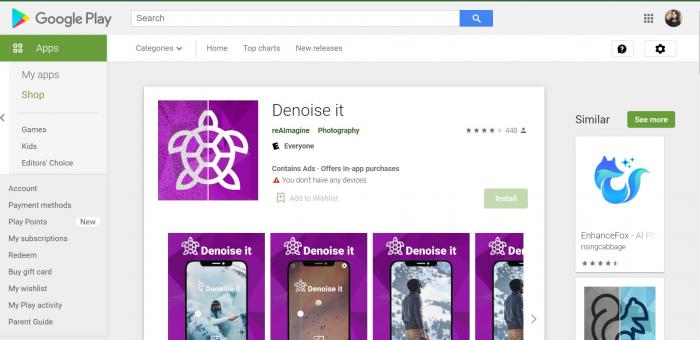 Any amount of noise can be canceled out with its ai noise reduction algorithms. The process is quick, simple, and effective and can be completed with a few taps of your fingers.
Pros:
Neither the uploaded image nor the image post the noise reduction is saved on the app's servers
No configuration is required to process the image noise reduction
Cons:
Watermark can only be removed post subscription
Conclusion
Make sure you choose the right product so you can ensure that the image does not lose its sharpness after the denoiser works its magic. The pixel values are synced to reduce graininess and roughness. A good image denoiser will demonstrate noise reduction from the signal while keeping picture quality intact.
FAQs
How to denoise photo online?
You can denoise image online by using an ai denoiser online. Vance AI is one of the best image denoiser available and can be used free online. For other products, take a look at our compiled list. Also read: Best 10 Photo Restoration Software & Online Tools 2021.